SOM/Oakland/Light/Cathedral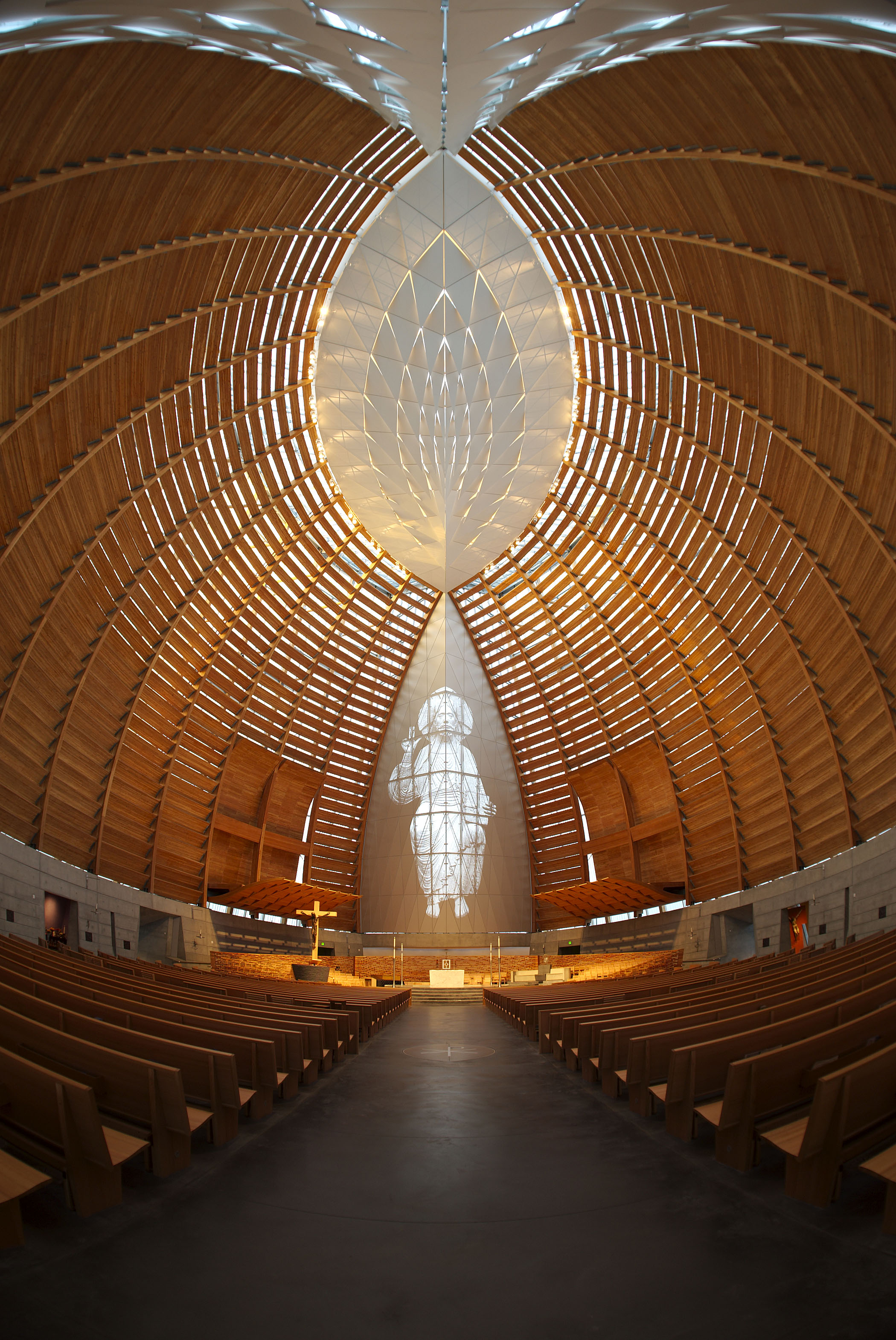 (These images are not mine.)

Building: The Cathedral of Christ the Light
Architect: Craig Hartman, FAIA of Skidmore, Owings, and Merrill (also known for the San Francisco International Terminal), although the winning architect was initially Calatrava
Location: Oakland, California (in the top 25 most dangerous cities in the US); former space was a parking lot
Although this building in Oakland, California, isn't really that far from where I live, I never visited it after its completion in 2008. I finally went there this past weekend. By chance, I was able to view it not stripped bare of the worshippers but fulfilling its intended function: a Sunday mass was being held in Spanish and people filled the pews. I had decided to not read more about the building prior to visiting it: my intent to let the architecture form whatever impression upon me without a knowledge of the architect's intent influencing that. Here are a few of my thoughts about the building:
As I walked to the cathedral along one of the landscaped paths of Lake Merrit, the cathedral's distant shape appeared to be a cone that had been severed across the top (actually a vesica piscis shape as I would read later). It also appeared a wedge of that cone had–in a sense–been cut out to reveal an exposed portion of an elliptical seed, or what I assumed would encompass areas such as the nave and the altar. It reminded me of a fruit whose anatomy had been fully exposed by removing a wedge of it.
The cathedral also appeared to consist of two layers of materials: the first was paned glass with a repeating frosted motif of vertical rectangles (some of which had rectangular cut-outs within them) and the second was a system of a robust wooden screen similar to plantation shutters (in this case, the shutters were angled upward) and white (material unknown) square with protruding triangular slits. The first layer–although it had the frosted portions to assist with the diffusing of the light–seemed to be the layer that accepted the light in its purest form. The interior layer did the main manipulation of diffusing, diverting, and restricting the light. The overall system produced a rich, warm glow in the interior at that particular time of day. Perhaps because two separate systems were used to manipulate the light and were, more importantly, given breadth from each other to be identified as two separate systems, I did not feel an oppressive bulk of structures but a sense of airy lightness while sitting on one of the pews.
More information can be found at
http://www.som.com/content.cfm/into_the_light
http://www.som.com/content.cfm/cathedral_of_christ_the_light
-Erica T.